Make sure you check out local events in your region.
The Tri-State Region of FJMC works to support and grow our local clubs and the region as a whole, while connecting our clubs and members with the power and breadth of the international Federation of Jewish Men's Clubs. Additionally, we hold occasional regional events to bring our clubs and individuals together, including an annual retreat in the fall and our bi-annual Man of the Year Award in the spring, prior to the FJMC International Convention. We are also exploring another potential central gathering in Erie, PA.
October 21-23, 2022 – Bi-Regional Retreat with the Tri-State and Kentucky-Indiana-Ohio Regions of the Federation of Jewish Men's Clubs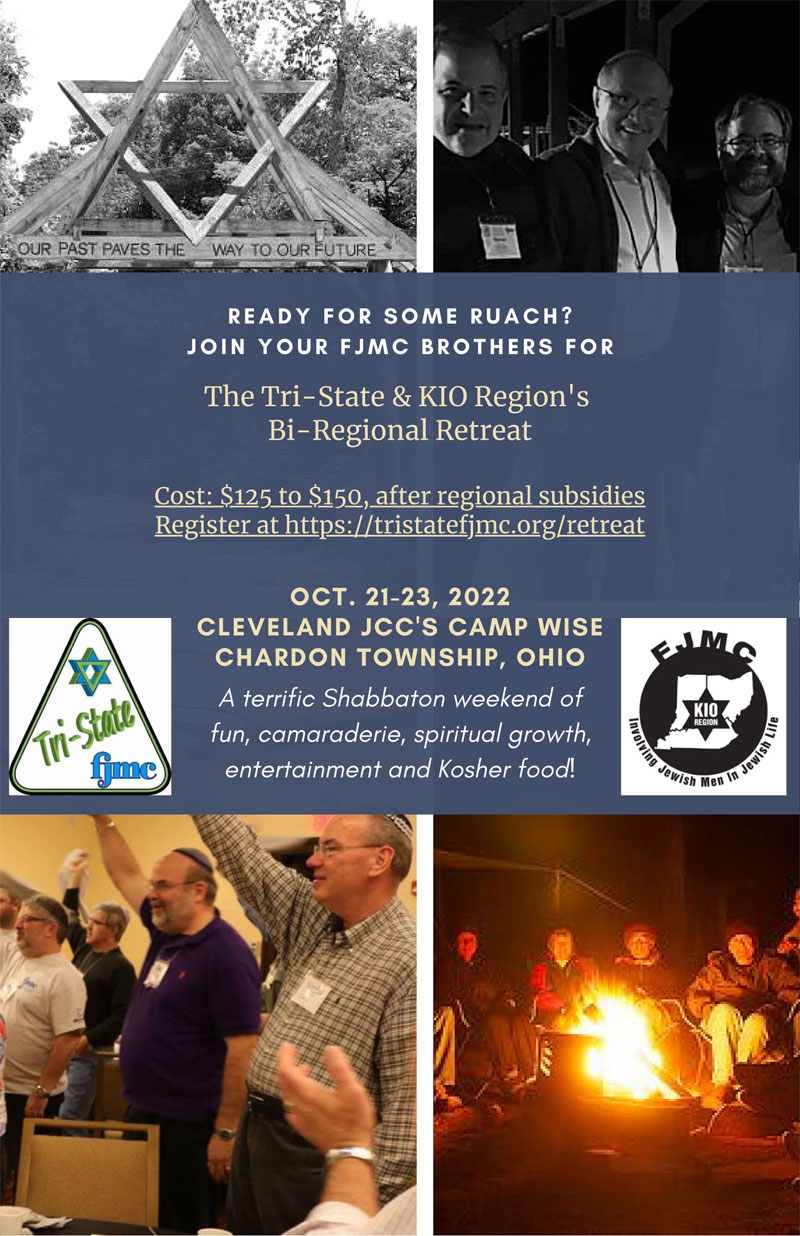 Join us for our Bi-Regional Retreat with the Tri-State and Kentucky-Indiana-Ohio Regions of the Federation of Jewish Men's Clubs:
Who: YOU
What: A terrific Shabbaton weekend of fun, camaraderie, spiritual growth, entertainment and great food
When: Oct. 21-23, 2022
Where: Camp Wise-Chardon, 13164 Taylor Wells Road, Chardon Township, Ohio (about 50 minutes east of downtown Cleveland and 30-40 minutes from Beachwood, Ohio). http://www.campwise.org/
Cost: $125 for 1st time attendees and $150 for returning attendees.
The regional retreat is a special opportunity for us to gather together to celebrate Shabbat, develop stronger friendships, study with and learn from each other, reflect on the many changes we have all experienced these past few years, develop new skills and enjoy time away from the hustle-and-bustle of daily life.
Camp Wise is one of the nation's leading Jewish overnight summer camps, run by the Mandel JCC in Cleveland. We will be staying in cabins, and enjoying the other facilities, activities, trails and grounds of the camp, much of which is close to the cabins. However, for those who prefer the comfort of hotel rooms, we have reserved a block of rooms at the Holiday Inn in Mayfield Village, about 25 minutes away. Booking and paying for those rooms, as well as returning to the camp for activities, is separate and in addition to the cost of the retreat, and is solely the responsibility of those individuals who desire them.
Attendees at the retreat must be fully vaccinated and boosted against Covid-19, to the extent recommended by the CDC, and must show proof of a negative Covid-19 home test result within 48 hours prior to coming to the retreat.
Man of the Year
Our Man of the Year honors a member of our region who has demonstrated outstanding leadership, participation and inspiration in our communities. It is an opportunity to come together to celebrate our achievements. The recipient is also recognized at International Convention.
SAVE THE DATE!
Man of the Year Date in 2023 TBA
Location: TBA
Details: TBA