Make sure you check out local events in your region.
The Tri-State Region of FJMC works to support and grow our local clubs and the region as a whole, while connecting our clubs and members with the power and breadth of the international Federation of Jewish Men's Clubs. Additionally, we hold occasional regional events to bring our clubs and individuals together, including an annual retreat in the fall and our bi-annual Man of the Year Award in the spring, prior to the FJMC International Convention. We are also exploring another potential central gathering in Erie, PA.
Tri-State Honoree Brunch – Sunday, June 25, 2023
10:00AM – 12:30PM
Congregation Beth Shalom
5915 Beacon St.
Pittsburgh, PA 15217
The Ma'asim Tovim Award is the highest recognition a Region can give to one of its members.  It is usually given to individuals who have worked on behalf of the region for many years. The recipient is also recognized at International Convention.
The Club Man of the Year Award honors a member of each club or synagogue who has demonstrated outstanding leadership, participation and inspiration in our communities. It is an opportunity to come together to celebrate our achievements.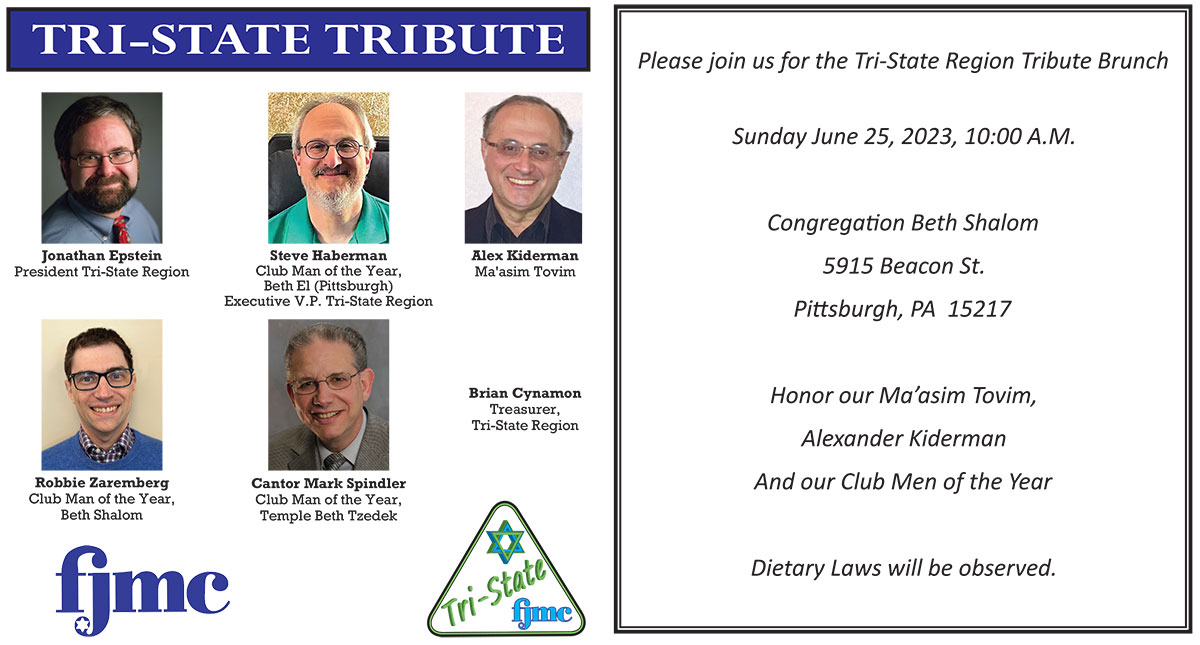 To pay by check:
Make check payable to Tri-State Region FJMC and mail to:
Mike Rosenberg
241 Shady Knoll Drive
Pittsburgh, PA 15220
Would you like to support our honorees and the Tri-State Region with a message or advertisement? Please see below and select from the options listed below.
Send ad design, text, photos or graphics to tristate.tributes.2023@gmail.com.
You can pay for your ad as part of the registration form or send check payable to Tri-State Region FJMC to Mike Rosenberg at the address above.